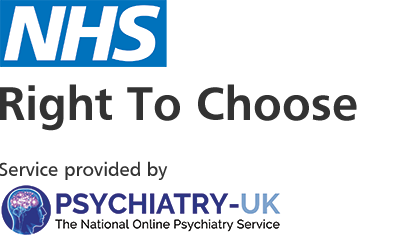 Your Right to Choose Psychiatry-UK for adult ADHD NHS treatment in England
If you are registered with a GP surgery in England and you are referred by a GP to a consultant or specialist in mental health, you have the legal right to choose the organisation (qualified provider)  to whom you are referred, as long as that organisation is providing that service in another part of England.
As we have NHS contracts to provide adult ADHD diagnosis and treatment services with a number of Clinical Commissioning Group in England, we fulfil the criteria to be a qualified provider under that NHS Right to Choose, so as long as your GP will make a referral to us, we will be able to get your ADHD treatment paid for by the NHS.
Why choose Psychiatry-UK?
●     We are online, so our services are convenient and discreet;
●     We provide a speedy service which means patients can get a diagnosis in weeks rather than months;
●     We are registered with the CQC;
●     We are a GMC regulated designated body for doctors;
●     We are the largest (and most economic) provider of neurodevelopmental assessment services in the UK, seeing over 250 patients every month;
●     We have over 50 consultant psychiatrists, so you can choose which doctor you see;
●     We are a qualified NHS provider.
How can I exercise my Right to Choose? 
If you would like to be referred to Psychiatry-UK for your treatment for adult ADHD, you need to get your GP to make a referral to us.  You are welcome to download a copy of this letter, fill in the relevant information about yourself, and take it to your GP. You might also like to provide them with a filled in rating scale like this one.
Your GP will need to write a referral to us, mentioning your Right to Choose, at:
Psychiatry-UK LLP,
Trewalder Chapel,
Trewalder,
Cornwall,
PL33 9ET
Alternatively, do ask your GP to email the referral to us on our professionals only address: p-uk.righttochoose-referrals@nhs.net
PLEASE ENSURE THAT YOUR GP PROVIDES US WITH YOUR EMAIL ADDRESS SO THAT WE CAN CONTACT YOU TO PROGRESS YOUR DIAGNOSIS.
Once we receive that referral from your GP, we will contact you to get you to fill in some rating scales and other forms, and then arrange an appointment for you to see one of our ADHD consultants. You will therefore be able to start to receive a diagnosis and start treatment from us within weeks.
Your GP does not need to get approval for your referral from the local Clinical Commissioning Group and we will not need to seek their approval before starting your treatment.  Only after you have been seen will we invoice your local Clinical Commissioning Group for your treatment. They may take some time to agree to pay, but that is our problem. We know that we will eventually be able to get them to pay as they have a legal obligation to do so.